Weekly News Recap: August 30, 2019
Weekly News Recap: August 30, 2019
---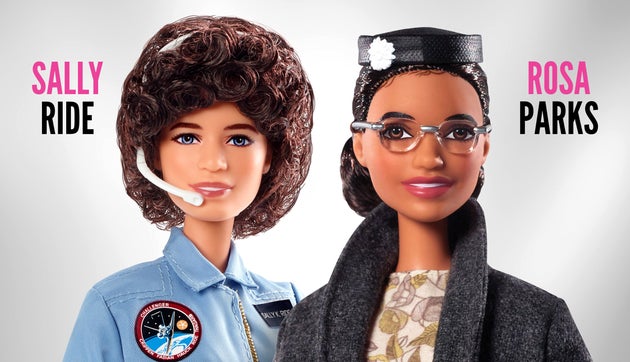 ---
Barbie introduced two new dolls to their Inspiring Women series on Monday: Sally Ride and Rosa Parks.
---
The time you enjoy wasting is not wasted time. — Bertrand Russell
---
This week's highlights
A salute 52 years in the making #NotADryEye
Three great events to consider attending #Beakerhead #Lumen #PennyBurk
Federal investments in the arts and in international education #ElectionTime
Calgary's new Central Library one of Time Magazine's Best of 2019 #WowJustWOW
Mark Tewksbury is honoured and a new dean of engineering joins Carleton #AwardsAndAppointments
Unwinding, napping, and protecting your downtime #LifeHacks
Living in the matrix and using snail charts #UncommonKnowledge
Neil Young gets cranky, Garth Brooks gets an award, and David Koch passes #Personalities
The Sacklers own up (and put up) and the Epstein saga continues #Controversy
Buh bye Lil Nas X, hello Billie Eilish #PopTrends
The existential threat to fundraising #Exodus
A report on leadership styles in fundraising #CanadianResearch
Leonardo gives $5 million to the Amazon and the University of Houston gets a $50 million anonymous gift #LargeGifts
And so much more...
---
In silent memory
---
Jackson Proskow: Dallas airport passengers silently salute the return of a fallen hero (Global News) Thank you for your service Col. Knight. "As Flight 1220 from Oakland taxied toward the jet bridge, two airport firetrucks provided a sombre water salute while the ground crew stood in formation. We all watched silently as the flag-draped casket was unloaded from the cargo hold, met by what we could only assume to be Col. Knight's family and a military guard." 8/8/19
---
Events
---
Penelope Burk - What Donors are Saying About Bequest Potential (CAGP) CALGARY STORY "The majority of donors with bequests don't tell you that they have named you in their wills. So how do you steward them if you don't know who they are? And, what is the real potential among your other donors who could become planned gift donors if they got what they needed?" Join Penelope as she talks about this and more on September 18th, 8:00am to 11:45am at the Calgary Zoo. Register here. August 2019

THE SPECTACLE (Beakerhead) CALGARY STORY Can't Wait! "Fire-breathing monsters, roaming engineered contraptions, glowing fashion, surprising entertainment, inventions of mammoth proportion, food, drink and more madness!" September 21, 2019 | 5-11 pm | Prince's Island Park. Get tickets here. August 2019

The Most Scientific Cocktail Party You'll Ever Attend is Coming up on September 26 at Telus World of Science (YEG Date) EDMONTON STORY "Mark your calendars for September 26th, for the most scientific cocktail party you'll ever attend. Telus World of Science is hosting LUMEN: Where Science Meets Cocktails, an 18+ night out of science demonstrations, cocktails, food and burlesque. It's your chance to explore the galleries, catch performances and demonstrations, eat and drink." Get tickets here. 8/20/19
---
News
---
---
Seven life and career hacks -- one for each day of the week
---
---
Uncommon knowledge
---
---
Opinion
---
Neil Young's Lonely Quest to Save Music (New York Times) Cranky or not, this guy is a legend. "Neil Young is crankier than a hermit being stung by bees. He hates Spotify. He hates Facebook. He hates Apple. He hates Steve Jobs. He hates what digital technology is doing to music. " 8/20/19
---
Philanthropic personalities
---
GARTH BROOKS TO RECEIVE INAUGURAL "GEORGE H.W. BUSH AWARD" FOR PHILANTHROPY (975 Country) Congrats! Well deserved. "It was announced that Garth Brooks will receive the inaugural George H.W. Bush Points of Light Award for Caring and Compassion. Points of Light is a global nonprofit dedicated to accelerating people-powered change, created the award to honor outstanding individuals who advance solutions to the world's toughest challenges and exemplify the extraordinary traits of its late founder and the 41st President of the United States, George H.W. Bush." 8/26/19

David Koch spent billions giving back to charity, here's where it all went (Fox Business) "He was a man with a big wallet, but also a big heart. He even referred to himself as a 'sugar daddy' for charitable causes." 8/24/19
---
Philanthropic controversy
---
---
Trends and shifts
---
---
Reports and studies
---
Tuesday is the most productive day of the week, survey finds (CBC) CANADIAN STORY Yep, Monday's and Friday's are not my most productive days. "Get set to cross those tasks off your to-do list: Tuesday is the most productive day of the week. A new survey conducted on behalf of staffing firm Accountemps suggests that 35 per cent of survey respondents say their productivity peaks on Tuesdays." 8/27/19

Optimism may hold secret to longer life, study suggests (The Guardian) I need to become more optimistic. "Seeing the glass as half full may mean a longer life, according to research suggesting that optimists not only live longer in general, but have a better chance of reaching 85 or older." 8/26/19

Leadership Styles in the Canadian Nonprofit Sector (AFP Global) CANADIAN STORY "Written by Mikhael Bornstein, MA, CFRE, [...] the survey offers a glimpse into how sector employees perceive their leaders, how leadership style impacts their career choices and how it might affect fundraising costs. [...] Mikhael identifies a number of different leadership development opportunities in the report [...] and there are many others that will help you develop your ability to motivate, serve, and empower those around you. [Fundraisers] should invest in their development as leaders." 8/15/19
---
Large gifts
---
Welcome to our recap of the week's news, articles, and information of note. ViTreo Group Inc. provides this information for the benefit of our clients, associates, staff, partners, and stakeholders. The content is collected and curated by ViTreo partner Vincent Duckworth. If you would like to submit a link for consideration, please send an email to info@vitreogroup.ca
The appearance of external hyperlinks does not constitute endorsement by ViTreo Group Inc. of the linked web sites, or the information, products or services contained therein. ViTreo Group does not exercise any editorial control over the information you may find at these locations. All links are provided with the intent of meeting the mission of the ViTreo Group Inc. Please let us know about existing external links which you believe are inappropriate.